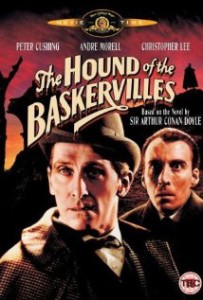 "It is a worthy setting if the devil did decide to dabble in the affairs of men."
That's right kids, the Jersey Devil is about to meet the Hound of the Baskervilles and we'll be publishing their unholy offspring in our January Issue. We're looking for all manner of interpretations of the Holmes' and Watson characters, whether past, present, or future. Bizarro Sherlock? Magical Realism Sherlock? Future Sherlock? Dick-joke Sherlock? Regular-old Sherlock? We want to read them all.
Submissions are officially open as of this very moment. Send 'em to the special Submittable portal here.
What's that you're saying? You can't make bricks without clay? Well here's all the data you're going to need:
Word limit
Just for this issue, we'll give you up to 8,000 words, but make 'em count. We'll also be quite content with something much shorter, so flash is cool, as is everything in between.
Is this legal?
We think so. In 2014, the Supreme Court sort of ruled that Sherlock was in the public domain. So we think we're on sound footing here, all the more so since absolutely no one is making any money off this deal (either us or you).
Are reprints okay?
So long as it's not something currently available elsewhere online, we'll consider it. But make sure to identify your submission as a reprint when you send it in and tell us where it was originally published.

Can Holmes and Watson be gay?
We'd kinda be disappointed if they weren't, but it's okay if they're straight too. We're open-minded like that.
Can we mash up Holmes with the Cthulhu mythos or maybe Bram Stoker's Dracula?
Oh, yes please.
Let's say I have a dead-on, pitch-perfect Conan Doyle pastiche that reads like something The Strand would've published in the 1890s – do you want that?
Actually, yes. Although we're interested in new and varied takes on Holmes, I personally wouldn't mind one classic tale to include with the more modern interpretations.

I've got a story that's all about Irene Adler without really any Sherlock. Can I submit that?
How shall I put this? Fuck yeah.
Can I set a Sherlock story in the future on Ganymede or one of the other Jovian moons?
You're just teasing us now, aren't you?

What about a Holmesian poem?
If it sings like a Stradivarius, send it in.

Give us some examples of interpretations of Sherlock Holmes you've enjoyed?
Jeremy Brett, Steven Moffat, Neil Gaiman, Nicholas Meyer, and especially Michal Dibdin are all pretty good starting points. Honestly, we didn't quite get into the officially sanctioned The House of Silk, but then we're sour pusses.
When's the deadline for submissions?
December 30 at approximately 11:58 pm East Coast Time. After that, we're just gonna kick back and wait to watch this.
Once again, send your Sherlock submissions here.
So get writing! The game is…well, you know.