"Steve has a really crazy sense of humour in the great tradition of the Goon Show and Monty Python. Thank him for me, please, for a witty, inventive, surreal and subversive collection."
— Gillian Bennett, author of "Alas, Poor Ghost!": Traditions of Belief in Story and Discourse
"If I had to use one word to describe this book, it would be 'quirky.' Schwegler has sought to use the world around us and give it a slant. With appearances by intelligent squirrels, talking food, and even Jesus, the range of story subjects will make you look at reality in a new way."
— Kimberly Lynn Workman, Fandomania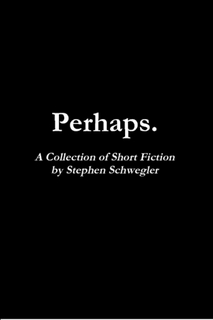 Available in paperback and digitally, for your Kindle or other e-reader!

"Hello, my name is Jerry and my friend here would like to talk to you about Perhaps. by Stephen Schwegler. Go ahead, Santa."
"Squeak."
"Nice. Would you like to tell us a few of your favorite lines from this book?"
"Squeak."
"Yeah, those are pretty great. For those of you who are not fluent in chipmunk:
'And besides, Heaven has E-Z Pass.'
'Lay a body out, chop it up and store it in Tupperware.'
'Must provide own uniform.'
'The room didn't flow.'
'Moo.'
'Not now, I need to call a locksmith.'
'See I was healing these lepers, said the wrong thing and, poof, here I am.'
'Eat one and I'll let you go.'
'That's because you're trying to open it with your feet.'
'I think he referred to him as a "deranged crack head."'
Wait, that last one wasn't about me, right?"
"Squeak."
"OK, good."

_____________________________________________
Read an excerpt here!