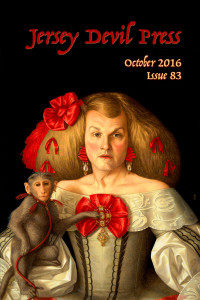 We are seven today, but we must be precocious, based on the frequency with which people inquire, "What are you, twelve?"
And even though it's our birthday, we have presents for you: a supernatural fishy tale, an absolutely true Hollywood story, a surreal case of sartorial revenge, and―because we love you―a hilarious attempt at canine exorcism. Plus, this month's cover art punches tired gender norms in the spleen.
So happy birthday to us. And for the record, while we do not live in a zoo, we welcome comparisons to a monkey on both the visual and olfactory levels.