"Beneath all that runs a current of insight and truth that elevates the strangeness in a very uncommon way. That's where I see Jersey Devil Press's strength in their two books that I've read. Sometimes the weirdness is just for the sake of weirdness, but very often it unfolds to reveal some subtle–and even occasionally important–commentary on humans and our nature."
— Jason Dorough, Fandomania
"The caliber of social commentary it presents is out-of-this-world authentic. Anti-capitalism, anti-establishment, and anti-consumerist ideas burst off the page with unnerving but comedic accuracy. Each selection plays with genre, rebels against literary trends, and is not afraid to be terrifyingly honest about life's emotional and social hierarchies."
— The Literary Lollipop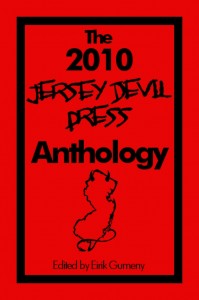 It's our pleasure to formally announce the 2010 Jersey Devil Press Anthology!
Almost 200 pages of solid awesome, the anthology is now available! Get it from Amazon, Barnes & Noble, or in the digital flavor of your choice (Kindle, .epub, .pdf).
The 2010 Anthology showcases the best of what we've published so far, as well as six — count 'em, six! — new stories, all of which epitomize what we here at Jersey Devil Press are about. Stories rife with Jersey attitude, dark humor, and zombies and werebears and unicorns, oh my! It's a veritable bacchanal of genre-straddling, clown-fearing, taco-hunting, world-ending prose!
Featuring work by:
Andrew Frankel
Ansley Moon
Bruce J. Berger
Christina Murphy
Danger_Slater
Daniel McDermott
Gavin Broom
Jenny Ortiz
Jonathan Plombon
Jonathan H. Roberts
Kate Delany
Kevin Brown
Louis Wittig
M. R. Lang
Mike Sweeney
Ryan Werner
Stephen Schwegler
yt sumner
Z. Z. Boone
the 2010 Jersey Devil Press Anthology is without a doubt the single greatest collection of stories written by multiple authors released by Jersey Devil Press this summer.
Did we mention the monkeys? 'Cause there's monkeys, too. Everyone loves monkeys. You'd be a fool not to order your copy today!
The details: ISBN 978-0-9846127-0-3; 6″ x 9″ paperback, $14.99; also available as an .epub, .pdf, or for Kindle, $4.99. Publish date July 27, 2010.