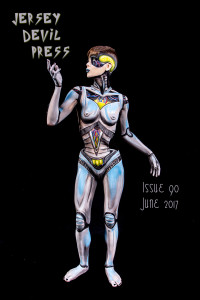 It's June, and we're sweating right through the striped knees of our old-timey bathing suit. Join us as we scuttle into the shade of a giant umbrella and let these beach reads tickle the sand off our toes.
Our ninetieth issue has art crimes of the future, poems that do yet don't add up, an aspiring Western hero, and a flaming car in reverse. Also a great cover photograph–with body paint, which is a first for us.
Rock it online or roll the .pdf.
Quick remind-plea: We need YOU to crank up your steam-powered typing machine and create a beautiful monster for our Victorian Mash-Up Issue!