I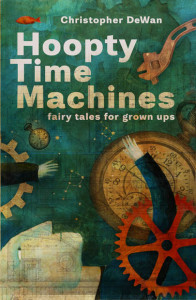 t's no secret that we're dedicated admirers of Christopher DeWan. (Christofans? DeWanthusiasts?) His clever Robinson Crusoe-Gilligan's Island mashup, "The Life of Strange and Surprizing Adventure," washed ashore in our February 2015 issue, and "Godzilla Reading Haiku" trampled our collective hearts back in 2013 and stamped into our most recent print anthology.
So when we were invited to review his flash fiction collection, we were over the moon like a cow on a trampoline. As soon as the slick little number (props to Yevgenia Nayberg for nifty cover design) popped up in our Pine Barrens mail hole, we plunged in with high expectations–and we were not disappointed.
Hoopty Time Machines (Atticus Books) is the literary equivalent of a perfect mix tape. Cover tracks of beloved stories and myths turn the classics upside down and shake shiny new coins out of their pockets. "Goldilocks and the Three Boys" shines in the details, such as how each brother's name has sly ursine or woodland tones, while "Poseidon's Net" is funny and sad and plays rough with words like "fishnets."
There are also some original songs on the playlist. Standouts include the aforementioned tale of daikaiju zen as well as "Voodoo" and "The Trolls," which depict (from different vantage points) parent-child relationships that may or may not be suffering from supernatural interference. Oh, and the object mentioned in the title track is not what it claims to be. Except, in a painful way, it is.
The speculative elements in these stories are engaging on their own terms, but they never overpower the achingly human desires of their characters. There are doorstop novels out there that fail to achieve the emotional impact DeWan can generate with a single honest, well-crafted sentence: "All we knew was that we were alone again, in the quiet, with nothing but one another" ("The Signal").
The subtitle of the collection, Fairy Tales for Grown Ups, hints at the wonders and horrors that infuse the stories while effectively framing their audience: Here There Be Monsters, but they are often tangled with the psychological foes one must battle later in life as a weary denizen of the modern world. Treat yo'self to this book of delightmares. And while you're at it, grab one for a friend.
The official release date is September 22, 2016, but you can pre-order it now!