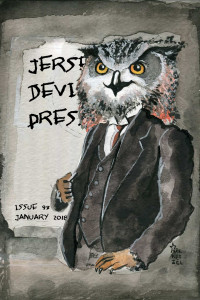 We may not know all the words to "Auld Lang Syne," but January always makes us want to try new and exciting things. Of course, it's way too cold to actually leave the house, so we will take our thrills vicariously, curled up on the sofa with a fluffy cat, a bowl of popcorn, and a steaming mug of Dr. Pepper, because we ran out of tea and are feeling adventurous.
Through the magic of the stories in Issue Ninety-Seven, you can start a simple yet unsettling job with us and hold our hand as we leap from a burning building. After you accompany us on a bizarre audition, we'll all get a whole garden's worth of tattoos. On the way home, we'll stop by Einstein Owl's treehouse for tea.
Bubble it online or squeak the .pdf.
If you like what you see here, don't forget to submit to our Happy Endings Special Issue, or one of our regular monthly issues; both are open to flash, short stories, and poetry.