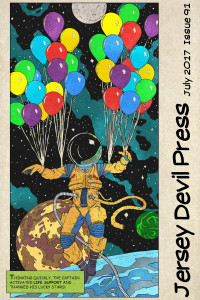 Pop them tabs (or bust out them bottle-opener keyrings, if you only drink craft brews named after local landscape features), throw something on the grill, and kick back with our ninety-first issue. It's got tricksy wordplay and trusty appliances. It has short-form sci-fi poetry. It also has a tentacular Christmas story, because we don't adhere to society's rigid and confining seasonal norms. And remember: in space, no one can hear you float.
Slap it online or tickle the .pdf.
P. S. You've got until Friday's end to send us your Victorian mash-ups in prose or verse!