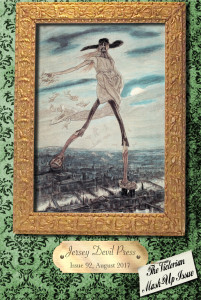 The Victorian Mash-Up Special Issue has debarked its dirigible and is ready for your perusal!
We begin with Julia Patt resurrecting Liz Frankenstein from both literary obscurity and the dead in a wonderful tale that also stars H.G. Wells' anonymous Time Traveler and, well, just about everyone else from the Victorian literary era, plus the occasional dinosaur. Also, Tesla. It's a corker.
Next, Dan Morey takes the obvious route and cross-pollinates Little Women and Moby Dick. Yeah, we didn't see that one coming either. Really, nobody fucking would, but Morey pulls it off brilliantly. It all starts when Jo March gets a harpoon for Christmas.
Finally, Jen Fawkes concludes the proceedings by mashing up James Moriarty with…Love? Infatuation? Obsession? We're still not entirely sure, but we do know Fawkes has crafted a lovely pastiche that just might be about the wonder of pastiche itself.
Sample a seven-percent solution online or enjoy the absinthe-flavored PDF.
P.S. Want to know more about Jersey Devil Press? Of course you do. Check out the awesome interview The Review Review just conducted with our excellent editor, Laura Garrison.